| NEBRASKA |
By: Photojournalist Hawk Buckman
---
Carhenge; the idea that this structure exists is a mystery to some, a joke to others, as much as Stonehenge is to the archeologist studying its history, yet here it is, standing on the lonesome prairie of the high plains of western Nebraska, in the sleepy but beautiful little town of Alliance.
---
The history of the modern monument, which is sure to baffle future archeologists, is a beautiful one that tells the story of the loyalty and commitment of a family who built the structure by returning to the family farm where it stands each year in honor of a family member who had passed away.
Jim Reinders, who experimented with artistic creations throughout his life, is the artist behind Carhenge.
Jim had the opportunity to study the design and purpose of Stonehenge while living in England. On his return to the United States in the summer of 1987, with the help of friends and family, Carhenge was erected as a lasting and enduring memorial to Jim's father, who lived on the property where Carhenge stands.
After the death of Jim's father, the family began entertaining the idea of creating Carhenge, and shortly after, the concept of recreating Stonehenge using abandoned vehicles was adopted.
Five years later, the family reunited and built the structure in June 1987. A dedication was held on the Summer Solstice of 1987, where songs, poetry, and a play was performed, which family members had written in honor of Jim's father.
Thirty-nine Cars
Thirty-nine automobiles represent the same proportions as Stonehenge and are erected inside a circle measuring approximately 96 feet in diameter.
The autos are held upright in pits, some over five feet deep, with the trunks end down. , Care was made to form the arches welded in place by connecting the automobiles at different angles. The sculpture is painted with light-gray paint to represent the stone monoliths. A 1962 Caddy represents the Heal-stone.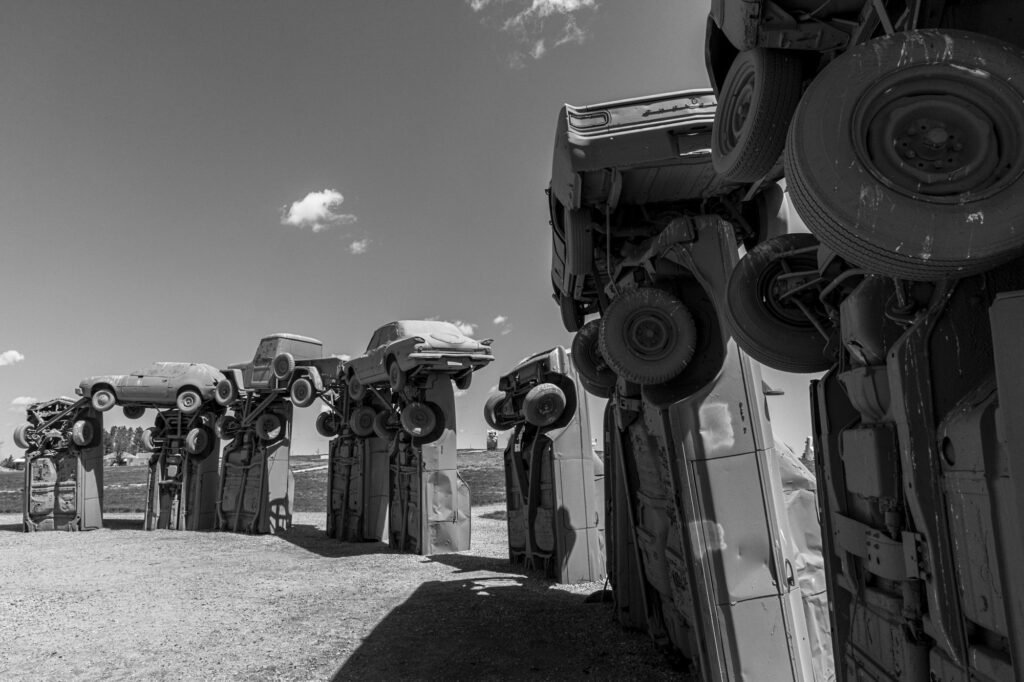 James 'Jim' Webster Reinders passed away peacefully at home in Houston, Texas, on October 16, 2021. Known as a joyous and loving man, Jim left a legacy not only in the form of Carhenge but with friends, family, and the community of Alliance, Nebraska.
The park has been featured in various music videos (P.O.D. – Youth of the Nation), has been the focus of many national broadcasts, and has appeared in movies and documentaries, which Jim took great pride in.
Believe it or not, Carhenge is one of our favorite places to visit and one of North America's most exciting and unique structures. It is uniquely Nebraskan and draws over 100,000 visitors to the park each year from every corner of the planet.
| MORE INFORMATION
The City of Alliance, Nebraska
---